Retrofit Public Pool Lighting
Retrofit Public Pool Lighting
  * SJ Electric recently did the retro fit public use pole lighting and interior pool lights for Louisburg Kansas. We installed the outdoor lighting for this public use space. These retro-fitted pole head lights are on a 30 foot pole and were installed using a snorkel lift. This was necessary because our electricians had to work over the already filled pool.
Extra care and precaution are necessary when doing electrical in a public or private space with water! This type of outdoor lighting is great for an outdoor field, arena or sports complex. They are available in LED, metal halide or high pressure sodium, which are different light bulbs that produce different tones of colors. Depending on the use of the light in the space, our electricians can advise you on what type is best for your project.
You can read more about light industrial lighting here. 
LED Bulb Options 
LED is the standard now in indoor and outdoor lighting, as it is the safest, but there are lots of options. Metal halide bulbs and high pressure sodium lamps (bulbs) are also available.  Metal halide produces a bright crisp white light, but high pressure sodium bulbs emit an amber orange hue light.  Click here for an informative reference for bulb types for this type of project. 
To contact SJ for lighting like this, submit your info on our home page contact form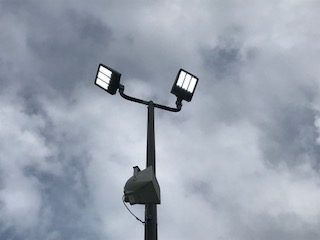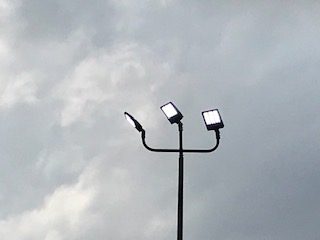 Retro Fit Public Pool Lighting